, Posted in
Technology News
,
0 Comments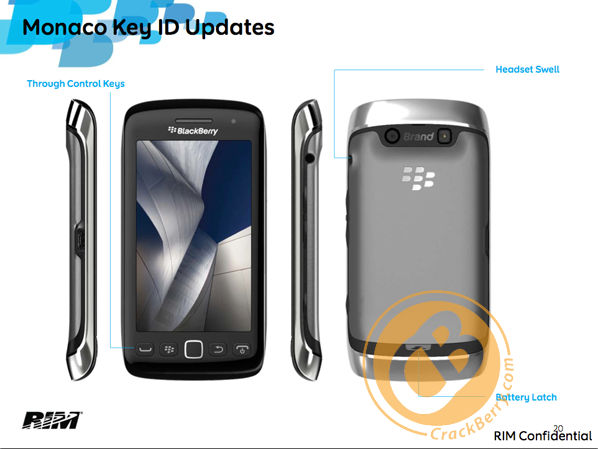 We just found some slides with juicy information about BlackBerry's 2011 lineup. Spoiler alert: there's a couple of (thinner) touch
phones
incoming and the OS is getting modernized with better graphics, browser, video and so on.
These slides show the CDMA versions, but the specs should be similar to the GSM variants - some of the listed handsets are even dual-mode (CDMA/GSM) phones.
Starting off with the BlackBerry Monaco Touch. It looks a lot like the previously leaked images of the BB Storm 3. The phone runs BlackBerry OS 6.1 on a 1.2GHz Qualcomm processor and 768MB RAM. It has a 3.7" WVGA capacitive
touchscreen
(with 253DPI) and all this is packed in 11.5mm thickness
The Monaco Touch is primarily a CDMA phone with EV-DO data connectivity, but also offers quad-band EDGE and single-band UMTS, for roaming purposes most likely. Another interesting feature is the 5MP
camera
, which can record 720p video.
There's a second slide titled "Monaco Key ID Updates" - it's not quite clear what that's about, but it the hardware keys are physical instead of capacitive. Other than that, it seems to be the same phone.
Next up is the BlackBerry Bold Touch (a.k.a. Montana). It too has GSM/EDGE/UMTS connectivity and a 1.2GHz CPU and 768MB RAM, 5MP camera with 720p video and it's even thinner - 10.5mm. The screen is 2.8" with VGA resolution for the impressive 287DPI.

BlackBerry Bold Touch (Montana)
The BlackBerry Sedona and Curve Touch have similar specs, except that the Sedona is a QWERTY bar, while the Curve Touch is a touch phone. Both the BlackBerry Curve Touch and the Sedona are powered by 800MHz CPUs with 512MB RAM. The displays have the older HVGA resolution and the cameras are 5MP (the Curve Touch can record 720p video).
The Sedona would likely be known as BlackBerry Dakota in its GSM form, while the Curve Touch will be the BlackBerry Curve Apollo for its GSM version. On the other hand, it looks a lot like the Storm3 too.
All these phones have Wi-Fi and
GPS
built-in and all but the Monaco Touch pack NFC. They support Wi-Fi hotspot functionality too, thanks to BlackBerry OS 6.1.
Here are a couple of other new things in v6.1 - 24-bit color support, OpenGL acceleration for 3D graphics, optimized WebKit-based browser with fast JavaScript, plus other goodies.
The roadmap leaked too so we know when to expect these new phones - the Monaco Touch and the Bold Touch (Montana) are expected in Q3 of 2011, the Sedona should hit in early Q3 and finally, there's a "Malibu" phone (which may be the Curve Touch) for early 2012.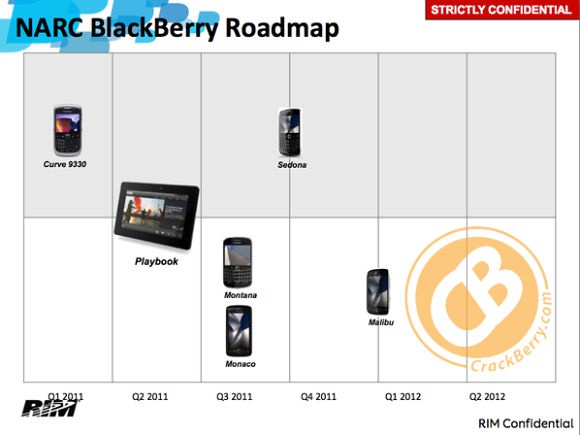 BlackBerry leaked roadmap
Overall, things are shaping nicely for the BlackBerry device portfo
lio. If only they could hurry up with the releases.